The results of the 26th edition of the Benefits Canada Healthcare Survey have been published – and they reveal some insightful evaluations that demonstrate the value of health benefits.
This year's results establish an overarching theme which highlights the importance of health benefits that attend to members' overlapping and interconnected health needs. The survey results emphasize the reality that a person's health does not exist in silos – where mental health, physical health, social health, and financial health are detached and unrelated to one another. In fact, all aspects of a person's health are deeply intertwined and should be considered as such when attending to their complete well-being.
More Than Mental Health
While mental health offerings are #1 among plan sponsors and mental health conditions are the #1 current diagnosis among plan members, the connection between mental and physical health commands particular attention to support employees' complete well-being. The correlation between overall health and mental health is demonstrated by 63% of employees who reported poor overall health and high stress levels. The survey also reveals a positive correlation between workplaces that support mental wellness and employees' perception of their overall health. The connection between body, mind, and work indicates the consequential influence an employer can impart on their employees' health, productivity, and overall well-being. This presents an opportunity for employers to be positive, constructive agents for a healthier, more dynamic workforce.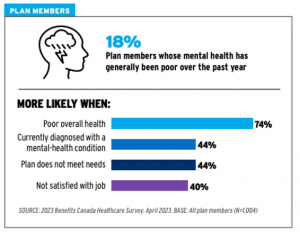 Increased Appreciation, Declining Awareness
A silver lining to emerge from the pandemic is the increased appreciation of health benefits plans among members – with 72% saying their appreciation is higher now than it was before the pandemic. Plan sponsor's introduction of virtual care and more benefits for mental health and preventative care have all had a positive impact on members' growing appreciation, however, when asked about whether they would trade their benefits for cash, up to 64% of members said they would.
This gap between appreciation and awareness can be attributed to the level of understanding held by members about the financial value of their plans. Plan members who do not fully understand the details of their plan are less likely to report that it meets their needs. This suggests that with improved communication aimed at better understanding, employers can boost members' opinions as well as their utilization of available benefits.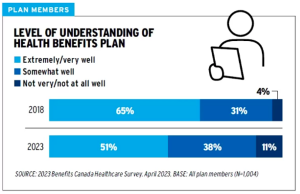 Better Communication and Navigational Support
The survey results show that members have a lower understanding of their health benefits plan compared to five years ago. In 2018, 65% of members reported that they understood their plans "extremely/very well". That percentage dropped to 51% in 2023. In 2018, just 4% of members reported that they understood their plans "not very/not at all". This percentage climbed to 11% in 2023. While health benefits plans have certainly evolved since before the pandemic, perhaps communication has not developed in synch, leaving members in an unfavourable state of ambiguity.
Plan sponsors' current modes of communication – predominantly email (50%) and the insurer's website (38%), are falling short of members' needs. A shift toward personalized communication may prove crucial in order to remedy members' poor understanding and lack of navigational support. A 64% majority of members are open to personalized information that would help them better understand and utilize their benefits plans.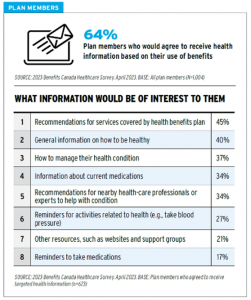 Coverage, Commitment, and Sponsor's Concerns
The survey results also opened up questions around coverage levels and the impact of coverage maximums on members' ability to access treatment. 51% of members report that coverage levels limit their ability to get treatment. Coverage for dental services fell short most often and mental health services incurred the highest out-of-pocket cost for members. These stats all point to an important consideration for balancing coverage levels and out-of-pocket costs.
Despite the difficulty of coverage levels and maximums, three out of four plan sponsors are committed to investing in wellness areas beyond the standard benefits, over the next three years. 86% of plan sponsors agree that employers must take on greater responsibility to provide preventative care, which demonstrates a commitment to complete wellness. The impact of inflation is a major concern for plan sponsors aiming to provide valuable and effective benefits. Going forward, there will undoubtedly be a heavier focus on finding the appropriate balance between the value and viability of health benefits plans.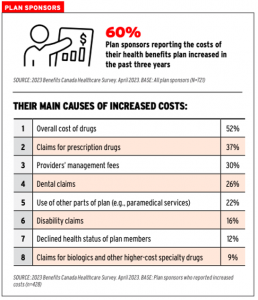 The project of improving the overall health and supporting the whole employee is shared between plan sponsors and members. The survey results reveal that sponsors are committed to preventative and comprehensive services, while members are committed to long-term, complete personal wellness. Everyone has a vested interest in a healthier workforce.