I talk to a lot of startups about health benefits coverage. While there are differences from company to company, massage, dental, vision and drug coverage have always been top requests. However, over the past 18-24 months, I've noticed a shift in what startups are looking for in terms of health benefits coverage for their teams. In addition to the basics that I just listed, more and more startups are asking about adding extended coverage, particularly for acupuncture, Health Care Spending Accounts (HSA), and Employee Assistance Programs (EAP).
Young employees want flexibility, more coverage and mental health services
There are a number of factors driving this change, one being that the millennial generation and generation Z are a making up a large portion of the startup workforce. PwC predicts that millennials – who it defined as people born between 1980 and 2000 – will comprise 50% of the global workforce by 2020. These generations have different values and expectations than older generations.
New research by Sun Life Canada aligns with this conclusion, revealing that only 37% of millennial and generation Z employees who have access to workplace health benefits feel their plan fully meets their needs.
These generations of employees desire flexibility and increased coverage. It's not a "one or the other" scenario though. When asked to choose between flexibility or increased coverage, survey respondents indicated a need for both, at 45% and 46%, respectively.
Mental health is also top of mind for both generations, with 76% of millennial and 78% of Gen Z respondents acknowledging it as central to their overall health.
Brigitte Parent, senior vice-president of group benefits for Sun Life Canada commented on the results of the study, saying "There are a number of things that we saw, around a strong desire for flexibility, where people are really looking for the ability to customize a program and make it more tailored to their own needs."
Parent sees an opportunity to "build even further on programs, to enhance them and make them more customized and flexible to the needs of every employee." I couldn't agree more.
Case-in-point: Turnstyle
Before launching his Toronto-based technology company, Turnstyle Solutions, Devon Wright worked as a financial analyst at a large Canadian bank and had access to comprehensive health benefits coverage. "There was just nothing there that was of any interest to me," said Wright about the plan. So, when he left and started Turnstyle in 2012, he decided to create a benefits package tailored to his needs.
"In addition to the standard drug and dental benefits, Turnstyle's plan covers naturopathic medicine, mental health counselling and provides employees with a fitness subsidy that they can spend on anything from a gym membership to yoga classes to participation in a Frisbee league."
This is just one example of how startups are tweaking their health plans to appeal to their employees. "This emphasis on living a healthy lifestyle really shows the company's commitment to me as a holistic individual, and not just a Turnstyle employee," shared one of the company's employees.
Here are the top three areas of coverage that IPFS is seeing more startups adopt in response to what their employees want:
Extended coverage
Coverage for acupuncture has been increasing in popularity over the past couple of years. It became regulated in Ontario in 2013, making it more reputable, accessible and "mainstream" – known for its benefits for improving fertility, digestion, anxiety and general well-being.
"Acupuncture is actually registered in more Canadian provinces than massage therapy," explains Sophi Robertson, Registered Massage Therapist and Owner of Spring Wellness Clinic in Toronto. "I've been practicing for more than 14 years and I can say there's absolutely more awareness, acceptance and encouragement around alternative therapies like acupuncture, both socially and by medical professionals."
This is where extended health care coverage comes in. It generally includes services by the following practitioners:
Acupuncturists
Chiropractors
Naturopaths
Osteopaths
Physiotherapists
Podiatrists/chiropodists
Psychologists
Registered massage therapists
Speech therapists
Even five years ago, clients rarely asked about acupuncture. Now, it's rare that they don't ask. Massage, chiropractic, naturopathic services also top the list of services that startup employees value most today.
Health Care Spending Accounts
Health Care Spending Accounts are emerging as a popular alternative or supplement to group health and dental plans. They are a cost-effective, convenient and flexible way to meet the different and changing needs of your employees.
In many respects, a Health Care Spending plan works like a savings account. An employer makes monthly, quarterly or annual allocations into a healthcare spending account for each employee, who can make claims on eligible expenses not covered by provincial health plans or regular benefits plans.
HSAs can include orthodontics, physiotherapy, medical devices, eyeglasses and orthotics and can also be configured to include wellness-related products and services, like gym memberships, personal trainers, sports equipment, etc. A growing number of our clients are opting to include these items based on feedback and requests from their employees.
Here are some of the benefits of HSAs that our clients experience in addition to creating a happy, healthy and productive workforce:
Cost control

employees can only claim to pre-determined limit
flexible contribution schedule
not subject to inflation

Flexibility

exempt from employee benefits renewals

Accessibility

employees can access their HSA online and via mobile apps
Employee Assistance Programs
Millennials place a much greater priority on mental health services, such as counselling and support groups, than their predecessors did, according to insurers and startup employees (including founders) who generally fall in to this demographic often struggle with high expectations, stress and depression.
It is a world in which getting the job done at any cost is almost a mantra, even to the point that "a startup can feel like a pressure cooker." This is why EAPs are particularly relevant to startups that operate in fast-paced and high-velocity environments.
"Mental health is now recognized as being one of the key factors in absenteeism and lost productivity, as well as drug claims and long-term disability," says Lisa Callaghan, assistant vice-president of products for Manulife's group benefits division.
For just a few dollars per employee per month, a confidential EAP program can assist employees suffering from personal and professional challenges such as substance abuse, job stress, mental illness, alcoholism, divorce, family issues, depression, eldercare and childcare issues, financial or legal issues and family violence.
"Mental health not only impacts the individuals, but also impacts the team, the environment and the culture, and for those reasons it is becoming more culturally accepted to have those conversations," says Callaghan.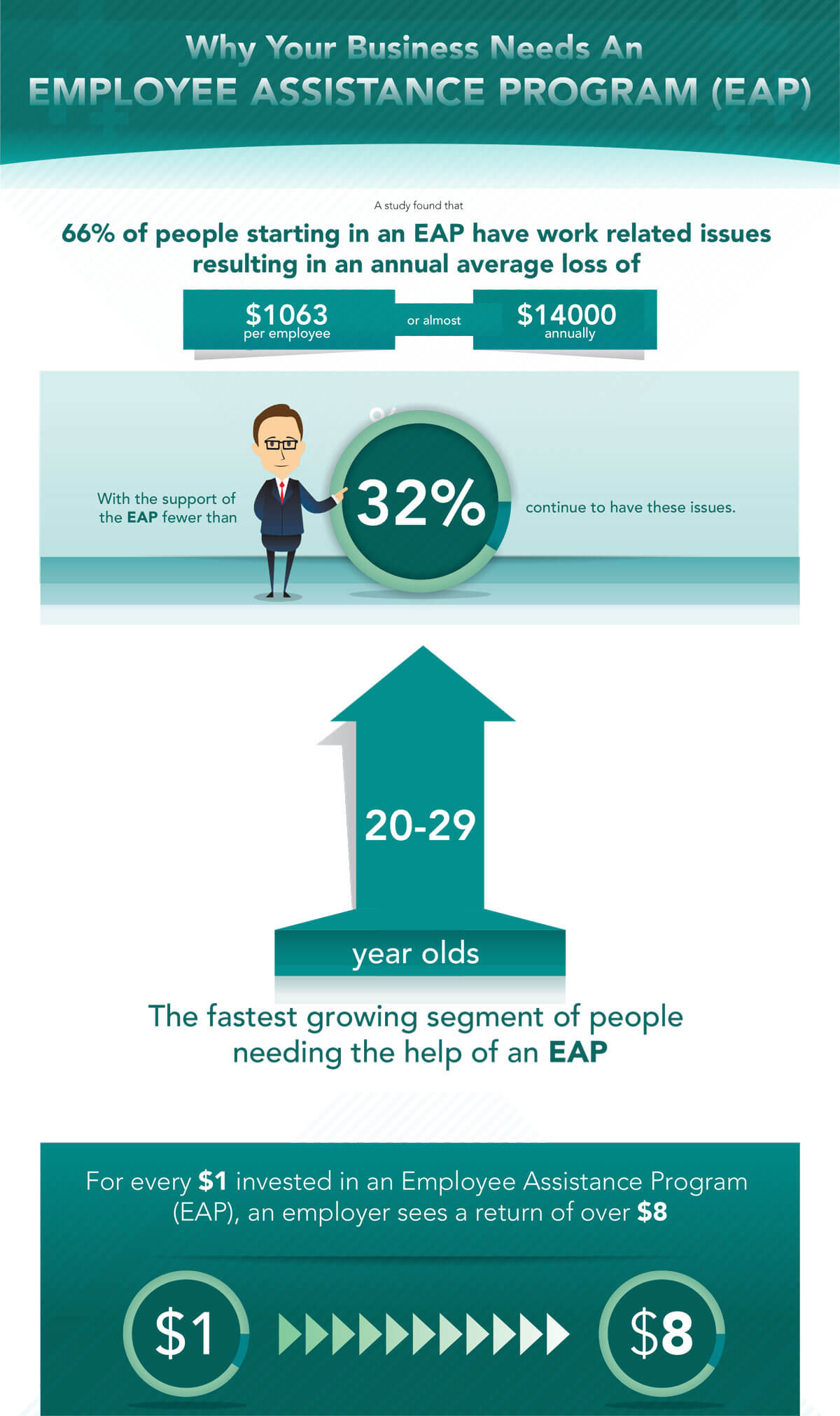 Talk to IPFS about creating the health benefits plan for your startup today.