I speak with a lot of U.S. based startups that have or are looking to set up shop in Canada, specifically Toronto. Different laws, healthcare systems, policies and even corporate cultures between Canada and the U.S. create a big learning curve for the founders of these startups.
I've compiled a list of the most frequently asked questions I answer when speaking with U.S. based startups.
Q: What do you mean by "employee benefits?"
A: Canada is recognized as having one of the best public healthcare systems in the world. Yes, the government covers basic physician and hospital expenses for all Canadians and provides financial assistance to Canadians who are unable to work because of disability or illness, but it doesn't cover prescription drugs, dental, massage, chiropractic, and so on.
However, disability insurance very well could be part of a company's overall wellness plan, because if something happens to the employee, and they have to go on disability leave, then some of their salary is covered – especially if they have a family. Recently, a number of startups are either adding long-term disability coverage or have started the conversation about it.
The easiest way to explain employee benefits is: they offer employees coverage for medical, health and wellness services not covered by the government.
Q: Most of my staff are in their twenties and don't have families. Why would they need employee benefits?
A: Employee benefits give your team the tools they need to live healthy lifestyles, by empowering them to be physically, emotionally and mentally well. The Canadian startup culture is based on the idea that happy, healthy employees are productive employees.
In recent years, the definition of "healthcare" has evolved from a term used to describe physical health to encompass a state of balance in body, mind, and spirit or overall "wellness." In fact, mental health is now recognized as being one of the key factors in absenteeism and lost productivity.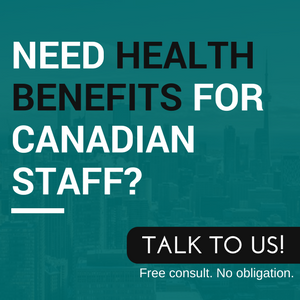 I'm mentioning this because Canadian employees have come to expect and appreciate employee benefits plans that provide flexible and comprehensive coverage for not only physical, but mental and overall wellness services.
Plus, if you're competing for top developers, a great benefits plan can be a competitive advantage. It shows that you care about them.
Q: Can I open an office in Canada and not offer employee benefits?
A: You can, but do so at your own risk. Employee benefits coverage plays a role in a startup's ability to attract and retain staff. The Canada-based companies you'll compete with for talent are very likely offering employee benefits.
Q: How can I offer benefits without burning through my cash?
A: It's better to have something than nothing, even when you have a small team and small budget. Put the levels low when you're starting out, but don't scale back because it won't be perceived well with your staff. I say it's always easier to increase coverage than to decrease coverage. The worst thing you can do in a years' time is to scale back because the plan wasn't financially sustainable.
To help keep your costs down, it would be wise to offer 80% coverage instead of implementing a benefits plan at 100%. You want to watch your spending, your staff want flexible coverage, so another option is to offer health-care spending accounts on top of 80% coverage. A Healthcare Spending Account (HSA) meets both of those requirements. An HSA operates like a bank account is a good place to start. It's a pre-determined allotment for each employee to spend as they wish without exceeding their limit.
Q: Do I need to use a broker or can I just use a web-based employee benefits service?
A: Working with a broker is advantageous because they leverage multiple insurance companies to design a plan that fits your budget.
One of the downsides of working with these tech companies is that they often don't have the insurance industry experience that you would benefit from when working with a broker. Further, brokers are neutral, unbiased and have no way of encouraging employees to spend more, leading to more fees for you.
Q: Is there any research that proves the value of offering benefits?
A: The 2011 Sanofi-Aventis Healthcare Survey polled 1,598 people with employee benefits coverage, asking them if they would trade their coverage in for $10,000, 59% said they would take the coverage over the cash.
When asked if they would rather keep their benefits coverage or receive $20,000, 48% still said they wouldn't budge. This is a testament to how much Canadian employees value their employee benefits coverage.
Almost half of the employees surveyed said they take at least one medication to help manage a chronic disease and they rely heavily on their benefits to help cover the cost.
Q: How would I go about getting coverage for my Canadian staff?
A: We're happy to walk you through the process of setting up an employee benefits plan that meets your needs and budget. We know startups move fast so we get clients up and running with their plans quickly. Chat with Becca or contact us to get started.