Earlier this week I wrote about how governments and large businesses are helping erase the stigma around mental health in the workplace. In recent years, I've seen a growing number of my clients bring more attention to supporting the mental health and wellness of their employees. I'd like to see this trend continue to grow this year I hope the information in this blog will lead to more positive action by startups.
Why do mental health initiatives matter to a startup founder?
Employers now have a legal duty to maintain, not only a physically safe workplace, but also a psychologically safe work environment.
The reality is that startups operate in fast-paced and high-velocity environments, and employees and founders can struggle with high expectations, stress and depression. Stress at work leads to anxiety and depression, and when we suffer—our work ultimately suffers. It can even have a detrimental effect on the work of our colleagues and teammates.
Keeping your employees healthy, happy and productive starts with providing the right education, support and nurturing environment. When your employees are happy, they do better work. "If you want a high-performing company, you need resilient, healthy employees," said Unilever's chief learning officer, Tim Munden.
You can make a difference for your employees
I attended a presentation by ReedGroup recently that shared some hard-hitting stats that emphasize the significance of mental illness in Canadian workplaces:
51% of employees are silent at work about their mental illness
43% of Canadians know a colleague with a mental illness
66% of employees say they do not have the tools at work to help them cope with their mental illness
44% of Canadians have a mental health problem such as depression, substance abuse and anxiety
Where should startups start when it comes to mental health?
The best place to start is to lead by example: Startup founders and leaders should be opening up about their mental health issues. Kevin Barnicle, founder and CEO of Controle took to Transcendental Meditation to combat burnout from the startup space, and even offered to pay half of the costs for his team to take classes.
Remember Madalyn Parker? She spoke up last year and wrote the email that went viral and helped add fuel to the conversation on mental health in the workplace. Her CEO applauded her for stepping up and recognizing that she needed to take a step back.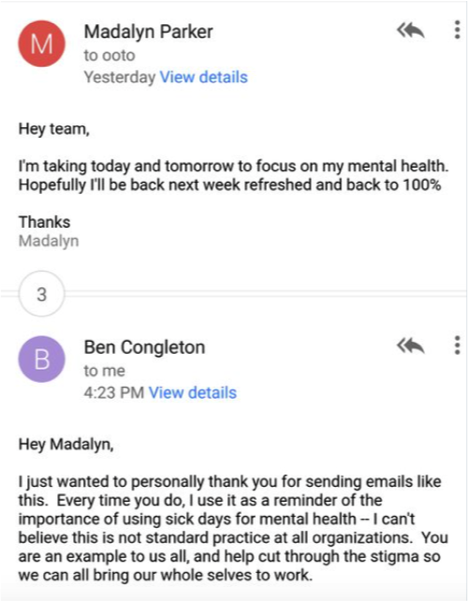 "It would be nice to see us get to a point where we view mental health the same way we view massage therapy," explains Toronto psychotherapist Matthew MacDonald. "Your muscles get tight, so you book a massage. Why don't we do the same for mental health?"
Empowering your employees to have the confidence to have a conversation about mental health is the best place to start.
The Benefits of an EAP are huge—but the investment isn't 
The startup culture is a world in which getting the job done at any cost is almost a mantra. However, the price for taking care of your employees that suffer from personal and professional challenges doesn't come at a cost.
Employee Assistance Programs (EAP) are confidential programs that help employees or family members get help when they need it if they're battling substance abuse, job stress, mental illness, alcoholism, divorce, family issues, depression, eldercare and childcare issues, financial or legal issues and family violence. They are one of the most effective ways to support employees with mental health conditions.
Beyond EAPs, there are additional options you can offer your team. Digital platforms like Akira can be purchased on a standalone basis and can provide your staff with direct access to health care providers, including mental health care assistance, when they need it.
There is no shame in taking care of your mental health. Together we can end the discrimination around mental illness by getting people talking about it openly in the workplace – and it starts with the leadership charting the course.
I believe this quote by TED Fellow Sangu Delle is right on point with where attitudes about mental health need to evolve: "Being honest about how we feel doesn't make us weak—it makes us human."
We're not there yet—but we're making progress.
For more information about how to get started with an EAP or explore other options to support the mental health of your startup employees, you can contact me here or start a chat with our chatbot.