Congratulations: You're opening a branch or subsidiary office in Canada! Tapping into Canada's market of 33 million citizens, not to mention its highly educated and motivated workforce, is a great idea.
Now that you're staffing up, you're undoubtedly looking at a benefits coverage for your new Canadian employees. Before you jump in to the first available plan at the top of the Google search results, there are a few steps you should take before making a decision.
Determine your plan objectives
As with any type of coverage, your Canadian employee benefits plan needs a proper objective to ensure its ongoing success. Your employee benefits plan objective doesn't need to be too specific or measurable, but it should provide a clear reason for why you have a benefits plan in the first place.
When your office and/or employees are operating in a different country, it's even more important to have a clear objective; you want your team members to know that you're looking out for them and are an important and valuable they are to your organization, even though they may be some distance away from the head office.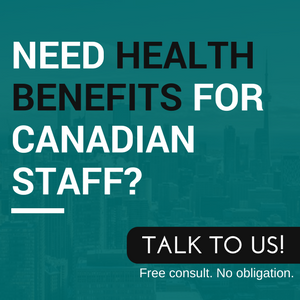 With that in mind, consider starting out with a statement as simple as, "The objective of our Canadian employee benefits plan is to ensure our Canadian team members' physical and mental health are considered and accounted for."
Learn the types of benefits your team wants—and needs
With a stated objective in place, your next step is to ensure that your plan covers the health care needs of your team. Things like coverage for dental cleanings and new glasses are table stakes—your team members are going to expect those.
Have you considered what will make a real difference to your team? Massage, gym memberships and employee assistance coverage that promote mental health services are benefits that you may not think of, but your team will benefit from.
And remember, a flexible benefits plan isn't just great for your current team members; it's a value-add for your recruiting efforts as well.
Read more: To learn more about what employees (especially younger employees) are looking for in a benefits plan, read my post Are You Providing Health Benefits Coverage That Your Team Actually Wants?
Understand the differences between U.S. and Canadian health benefits plans
I covered this in more detail in my FAQ, What U.S. Based Startups Opening Canadian Offices Need to Know About Employee Benefits, but there are a few differences between the U.S. and Canada when it comes to health and wellness. It's notable that although Canada has a universal system that provides basic health coverage to its citizens, there are still a great many things that Canadian rely on their work-based employee benefits plans to cover: Things like prescription drugs and dental care.
One of the other differences between Canada and the U.S. is that turnaround times for plan deployment are usually quicker. Once you've decided on a provider and a plan, you can be up and running in as little as three weeks.
Research the right provider and the right plan
Once you have an objective, and you understand the benefits your Canadian team is looking for, it's time to decide on a solution provider and a plan.
The good news is, you have more choices than ever in this area. There are brokers, traditional large corporate insurance providers, smaller, more modern providers, even online-only providers.
The bad news is, sifting through all of your options for both provider and plan can be time-consuming and headache-inducing, especially if you're opening an office in Canada and don't have the background knowledge of the Canadian health insurance marketplace.
This is where a broker can really make a difference. A broker is an expert in the space, works with a network of providers and operates on your behalf to find the right plan for your team.
We're happy to help you get started. Drop us a line today or chat with Becca and we'll help you set up a Canadian employee benefits plan that meets your objectives, your team needs, and your budget.